The Pathways at Tanque Verde High School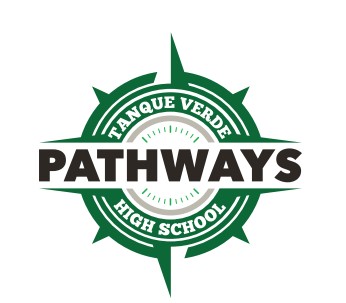 Students at Tanque Verde High School have the unique opportunity to not only receive an exemplary high school education, but to take a blend of practical and applicable college and career coursework across traditional, elective, and honors courses as they prepare for life after high school. Each student receives a unique and personalized pathway designed just for them.


All Tanque Verde High School students will receive this customized four-year plan prior to starting at TVHS to support not only the goals of the student as they enter their first year on campus, but also to prepare for course opportunities that are available for 11th and 12th-grade students. Creating a clear 4-year plan based on a career pathway of choice allows for students to make educated decisions about the course work they complete while at Tanque Verde High School. Students have the opportunity to meet multiple times throughout the year with their counselor to monitor progress toward their pathway goals, make plans for future years, or even change their goals entirely if their interests shift.


There are 4 general pathways at Tanque Verde High School (STEM, Performance and Design, The Honors College, and Liberal Arts). Within the first three pathways, we have general four-year plans to meet graduation requirements while supporting students who are passionate about certain subject areas. If students do not yet know what they are passionate about, or would rather pursue a diversity of course offerings, the Liberal Arts Pathway offers that freedom to explore. We also have more specific four-year plans to support students within each pathway who are interested in pursuing specific jobs and industries. At Tanque Verde High school, we want each student to have a tailored four-year plan that helps them reach their goals!


Students are not limited to courses within a specific pathway. Students are encouraged to try courses in different areas so they can learn about different pathways and enjoy their passions in other subjects. The Four-Year plan below is the general framework from which a customized four-year plan will be created for each student. Students have the ability to choose levels and options within their graduation requirements as well (i.e.: Honors English 9 versus English 9; Earth Science versus Honors Biology).

Click image to enlarge:
The Pathways were designed to support current trends in employment in Tucson, Southern Arizona, and the Western United States in collaboration with the Tucson Metro Chamber of Commerce and the Sun Corridor. By design, we support each individual student's pursuit of the career pathway that is most important to them.

The data below is maintained by Eller College of Management at the University of Arizona and speaks to industry and career trends in the region.
Click on any of the industries in the left-hand column to see the latest employment trends:
*Students interested in multiple programs within this pathway should meet with their counselor prior to registration each year to ensure they have a plan to maximize their schedule.
**Requires a performance capstone project during the senior year